It's a typical Thursday morning in quarantine. I wake up, feed the cats, make coffee and turn on the "Today" show. I check my phone with tired eyes and open Instagram to find a couple of direct messages, one from a dear old college friend. "Co-writing with Bon Iver?!?!!" is all it says, and it takes me a moment to realize she shared an Instagram post from Taylor Swift along with the message.
Still not processing it, I visit the post to learn that Taylor Swift will be releasing a brand-new studio album on July 24 at midnight, called "folklore." I read on and find that not only was one of the songs co-written by and would feature Bon Iver but also that 11 of the 16 songs were co-written by Aaron Dessner, a member of The National. I quietly squealed with joy and announced the news to my boyfriend, making it very clear that I'll be staying up until midnight to listen. (Most weeknights we're in bed by 10:30 PM, so this was a big deal.)
If you're familiar with my passion for indie and folk music, you might be thinking to yourself, "Whoa, you're a Taylor Swift fan?" And the answer is an enthusiastic yes. Though I don't gravitate toward country or pop music, Taylor Swift has always been the exception. I'll confess I've had my ups and downs with T-Swift, particularly during my deep dive into the somber indie scene in my late college years. I often rolled my eyes at "basic" pop and Top 40 hits during that time and adopted an admittedly pretentious taste in music. Back in those days, my roommates likely thought I was depressed due to my constant blaring of beautifully solemn tunes from bands and artists like Iron & Wine, Ryan Adams, Bon Iver and The National. Oh, wait. Didn't I just mention those last two in my previous paragraph? Yes, I did. Which is why "folklore" is one of the wildest collaborations I could have ever imagined.
When I think of Taylor Swift, the first albums that come to mind are her classic, country-pop album "Fearless" and her later, synth-pop album "1989." Every time I listen to "Fearless," I can vividly remember my senior year of high school, driving to football games and Friday nights spent with my two best friends. Everything about that album screams nostalgia: crushes, drama, lessons learned. Don't get me wrong — I'd never relive those days. However, I do hold incredibly fond memories of that time in my life, especially when I listen to Swift's older music.
It was during the album "Red" that I had a falling out with Tay Tay and her music (as previously mentioned), and it actually wasn't until "1989" that I was drawn back, mostly due to singer-songwriter Ryan Adams's cover album in 2015 (yep, yet another aforementioned favorite artist of mine). I was shocked to see such a grungy indie artist even attempt to recreate one of the most upbeat albums from a major pop star. After reading more about Adams's reasons for creating the album (check out his interview with Rolling Stone here) and countless streams of his beautiful renditions, I decided to give the original album a listen myself. To no one's surprise, I quickly fell right back in love with Taylor Swift and regained respect for her songwriting, talent and fresh sound.
The years that followed brought the edgy and strange "Reputation," which even Swift admitted wasn't her best work. Many harped on her for being fake and disingenuous on this album, while other fellow fans respected her experimental push into new sounds and genres. Though it wasn't my favorite, I'll confess that the album grew on me over time. Plus, it led us to her beautiful gem of a documentary, "Miss Americana," which shed light on her journey through struggles, failures and her writing process behind the album "Lover."
"Lover" captured fans' hearts almost immediately with its summer aesthetic and celebratory and romantic pop anthems. It was with this album that Swift is believed to have found her voice in the world, lyrics chock-full of underlying political messages and societal issues. Listening to this album was like a sigh of relief. The Taylor Swift we knew and loved was back and ready to ignite inspiration.
Fast-track to nearly a year after "Lover" had been released: Our world is in the midst of a global pandemic and social unrest. There's no knowing what the future will hold, and it's almost as if the whole music industry has taken a long pause — until that wonderful Thursday morning we learned of "folklore." It was a glimmer of hope during a dark several months.
Even knowing what Swift had shared prior to the release, I still had no idea what to expect of "folklore." Would it be just a more mellow version of her typical sound, or would she truly be crossing over into the folk and indie genre? As midnight strolled along, I lit a candle, poured a glass of wine, turned on my electric fireplace for ambiance (despite the 100 degree temperatures here in Austin, Texas) and opened up Tidal to find the album front and center on my homepage. It was time.
Taylor Swift has always been known to be a great storyteller through her music, but "folklore" transcends all past albums in this aspect. Full of exquisite imagery, raw emotion and vulnerability, "folklore" is quite possibly Swift's best masterpiece to date. Not only do the songs tie together seamlessly within the album, but they also refer back to past songs and narratives, such as "Bad Blood" (in "invisible string") and "This Is Why We Can't Have Nice Things" (in "the 1"). If you haven't caught it already, I recommend you take a listen to the three songs "cardigan," "august" and "betty," all of which are said to tell the same story of a love triangle from three difference perspective: James , Inez and Betty.
I'll also add that the music video for "cardigan" is breathtakingly enchanting.
Throughout the album, it's clear that Swift's music has evolved into a more sophisticated, mature variation of her true, authentic sound. Though melancholy and somber at times, you can still hear the whimsical, romantic elements that her music is often known for. I get flashbacks to "Fearless" when listening to "betty" in particular, perhaps because of the more upbeat guitar strums and harmonica, or maybe because of the more simplistic lyrics compared to other songs on the album. Either way, the animated, third-person narrative is a true, easy listen and has quickly become one of my favorites on the album.
There are a lot of things about 2020 I wouldn't believe if you told me years back, and "folklore" is undoubtedly one of them. If you had told me that Taylor Swift would be co-writing music with both Bon Iver and members of The National back in 2013, I would have laughed in your face. "There's absolutely no way those artists can blend their sounds. Bon Iver? Too wistful. The National? Too shadowy," I probably would have said. Yet here we are now, with one of the most unique music collaborations available at the click of the button. If anything, "folklore" proves that no artist is limited to the boxes we call genres. No crossover is impossible, and this by far is one of the most amazing I've seen.
If I were to describe this album with one word, I'd use the work "hygge," which I've heard many others use to describe it as well. Hygge is a Danish and Norwegian word defined as "a quality of coziness and comfortable conviviality that engenders a feeling of contentment or well-being." Think of a cool autumn day, cozy blankets and warm candles. Sipping on a cup of coffee in lounge wear and fluffy socks. All these things embody exactly how I feel when listening to "folklore." It's true contentedness through ethereal melodies and imaginative imagery.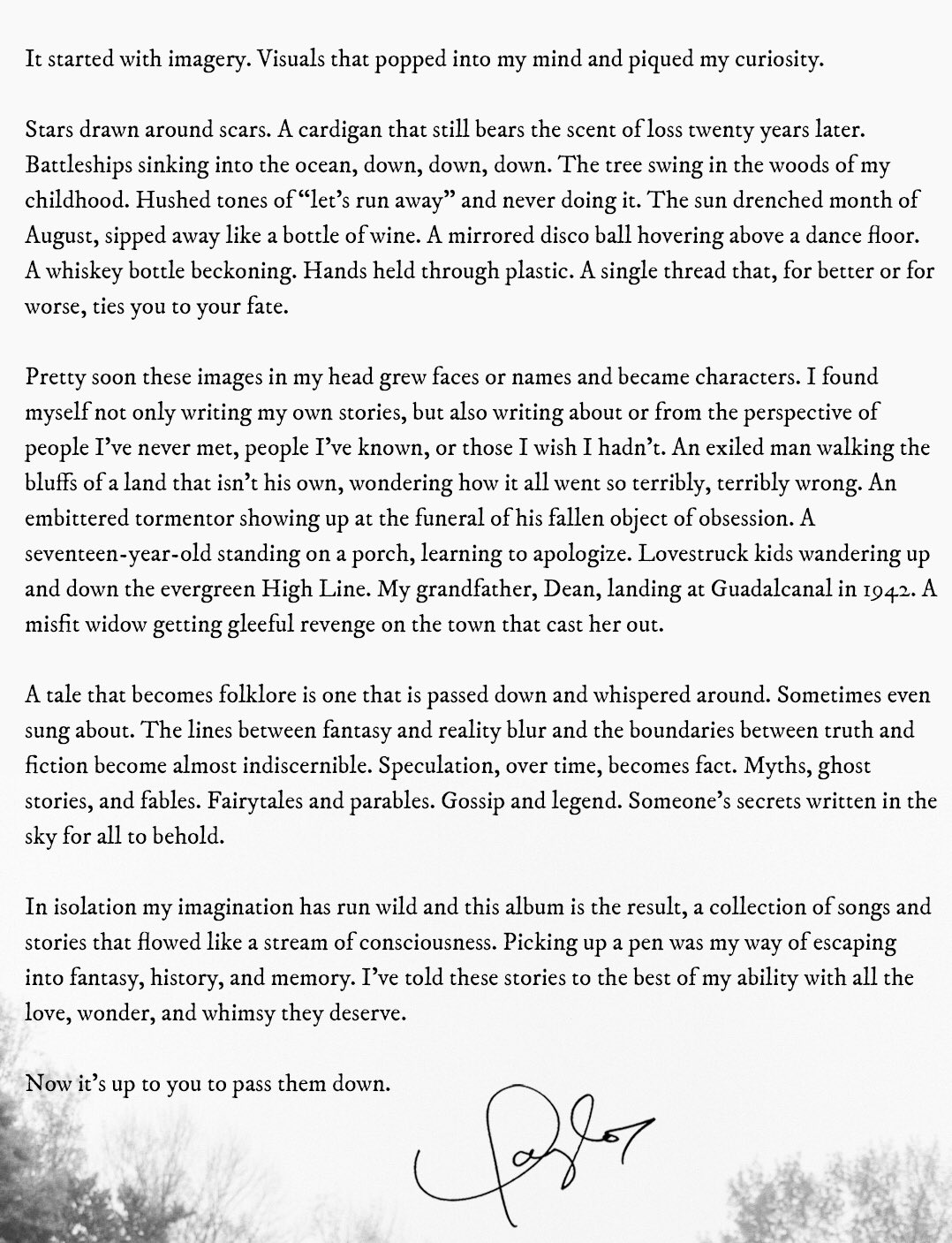 While the rest of us were making banana bread and TikToks, Swift was clearly hard at work in self-isolation and reflection, preparing an intricate and divine gift we never even knew we needed. Looking back on this time, I know I'll always be thankful for this album and the magic it radiates. I often wonder if such a beautiful creation could have come to life had the world not been in that place it is. "Before this year I probably would've overthought when to release this music at the 'perfect' time," Swift announced on social media. "But the times we're living in keep reminding me that nothing is guaranteed. My gut is telling me that if you make something you love, you should just put it out into the world. That's the side of uncertainty I can get on board with."
Soft yet powerful, warm yet chilling at times, "folklore" captures the essence of both indie folk and traditional Taylor Swift in a perfect, delicious blend. Though many say she has opened a door to a completely new genre, I instead see this as Swift adding another layer to her repertoire. Such growth and expanse isn't an easy feat, and I think many will agree that "folklore" will go down in history as Taylor Swift's revolutionary work of art.
"folklore" is currently available for stream or download on all music platforms. Visit https://taylor.lnk.to/folkloreWE for more!
Leigh is a native Texan gone temporary New Yorker and now proud Austinite. Passions include but are not limited to music (both as a spectator and dabbler), traveling & cultural adventures, film & television, true crime, design (of the fashion, interior, and graphic sorts), and photographing & writing about all the aforementioned. Self-acclaimed coffee connoisseur & wino, cat aficionado, book worm, and nature junkie.