Emmys 2020 Ceremony: Who Won Big? Who Went Home Empty-Handed?
With more than 100 live feeds, people in hazmat suits delivering trophies, award envelopes being sanitised (and set on fire,) it was one hell of an Emmy ceremony this year. The 72nd Primetime Emmy Awards were led by Jimmy Kimmel in an empty Staples Center during a virtual ceremony that reminded everyone what a bizarre year 2020 has been. The ceremony featured some sweeps, surprises and some spectacular winners.
(Jennifer Aniston, saving the night from taking an unexpected turn.)
A "Schitt's" Sweep
It was likely that "Schitt's Creek" wouldn't go home empty-handed, but no-one predicted it to make history. Yet with 9 wins in total, the CBC/Pop TV comedy swept the night, winning the top prize of Best Comedy Series, ultimately having the most wins in a single season for a comedy. Not only that, "Schitt's Creek" became the first comedy or drama show ever to win in all four acting categories. Eugene Levy (Leading Actor), the incomparable Catherine O'Hara (Leading Actress,) showrunner Dan Levy (Supporting Actor) and the brilliant Annie Murphy (Supporting Actress) all scored wins for "Schitt's" sixth and final season, stunning when you consider that the show had never even been nominated before until last year.
"The internet's about to turn on me, I'm so sorry," Dan Levy joked (in true Canadian fashion) as he accepted the award for Best Supporting Actor. Levy was also the most awarded person of the night, as "Schitt"'s once again made history with Levy winning best writing and directing, tying for the most wins by an individual in a season ("Maisels"'s Amy Sherman Palladino is the other). It was impossible not to be endeared by the cast, (who were gathered together to watch the awards) whose surprise and joy every time they won was lovely to watch, and a reminder of the other group moments we were missing out on in a virtual ceremony.
A Fond Farewell
Yet it made sense voters embraced "Schitt's Creek," which as Dan Levy said, "is about the transformational effects of love and acceptance… something that we need more of now than we've ever needed before". Voters were clearly making up for lost time, redeeming themselves for not awarding the show previously. It's been the most unconventional journey for the show on a little cable network that ended up a hit when it was put on Netflix. It's heart-warming to see a comedy that prioritises character growth, compassion and acceptance win big.
Meanwhile HBO's "Succession" dominated the drama categories, winning Best Drama Series for its hilarious and riveting depiction of an all-powerful, horrifying media-mogul family. In his acceptance speech, showrunner Jesse Armstrong gave a series of un-thank you's which included the coronavirus, President Trump, British Prime Minister Boris Johnson, nationalists and the "media moguls who do so much to keep them in power."
Armstrong picked up the award for Best Writing (the show's second writing win in a row,) which was unsurprising considering it's the best-written show on television right now. Meanwhile, Andrij Parekh picked up the Best Directing award for his masterful and tense direction on season two's "Hunting."
Thankfully, everyone's number one boy, Jeremy Strong, won for Best Leading Actor (beating co-star Brian Cox) for his gutting, mesmerising performance as Kendall Roy.
Despite bets that Kieran Culkin would prevail in the Supporting Actor category, "The Morning Show"'s Billy Crudup took the prize. Regardless, with seven wins, "Succession" proves it's the drama to beat in the years to come.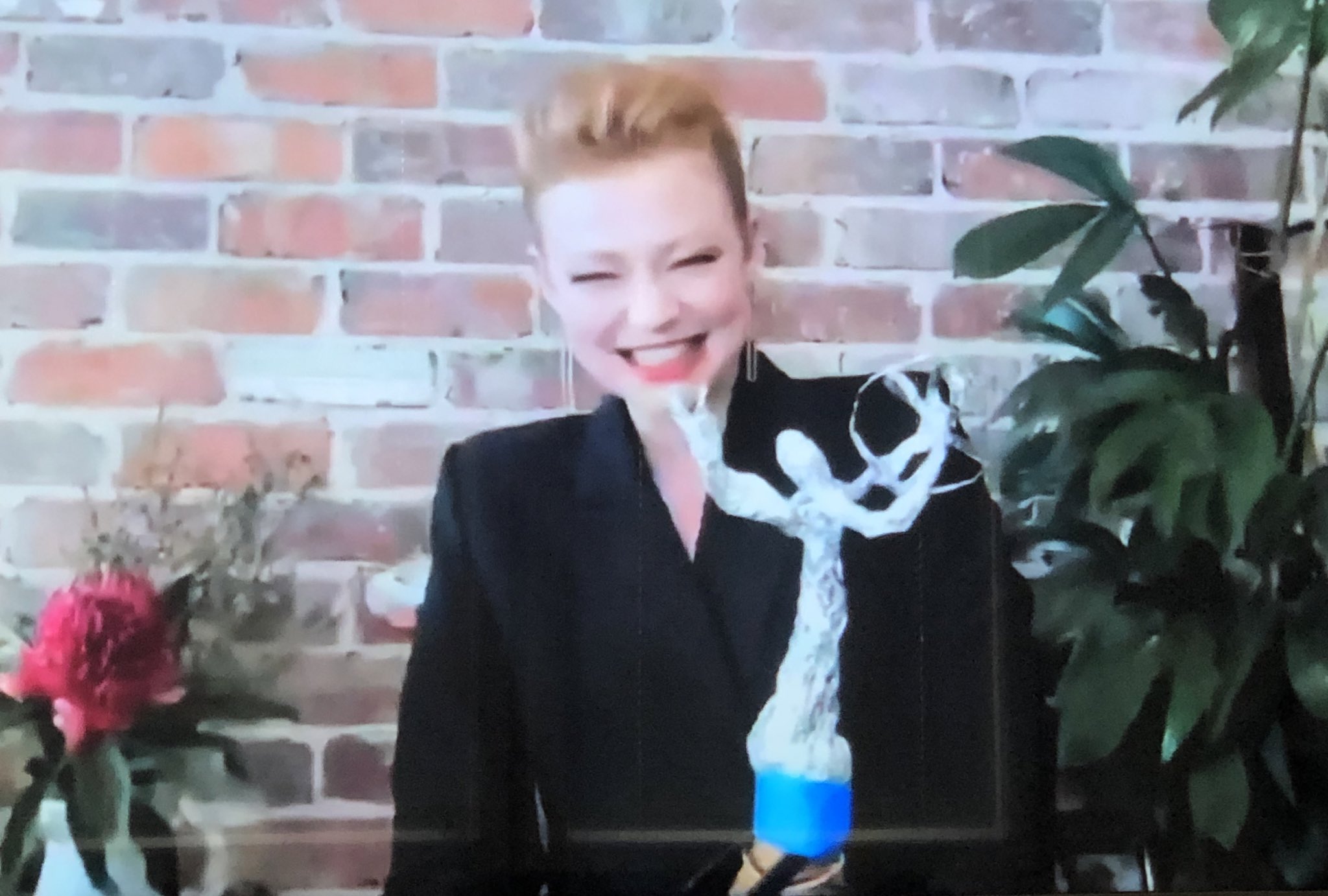 Zendaya Made History
It seemed unlikely at first that Zendaya would even be nominated for Best Leading Actress, not because she wasn't deserving, but because it seemed voters may dismiss "Euphoria" as a teen drama. Thankfully, everyone was proved wrong when she got nominated, but a win seemed too good to be true. Yet the Emmys proved they can still surprise, awarding Zendaya's enthralling performance as Rue Bennett in the HBO drama. Not only is Zendaya now the youngest-ever winner in this category, but she's also the second Black woman to do so after Viola Davis won back in 2015. Her win also marks the second time HBO has won in this category. "This is crazy!" the actress gushed, highlighting that "there is hope in the young people." Definitely the most memorable win of the night.
The HBO series was up for a staggering 26 awards and it won 11, the highest number for any show. The prizes included Best Limited Series, Best Writing, Best Music Composition, Best Cinematography and two acting awards.
The one and only Regina King won Best Leading Actress, marking her fourth Emmy in five years, proving no other actress is doing it like King. Another welcome win was Yaha Abdul-Mateen II for Best Supporting Actor, who praised the importance of "Watchmen" telling "a story about trauma… the lasting scars of white domestic terrorism… But in the midst of it all, it was also a story about a god who came down to earth to reciprocate to a Black woman all the love that she deserved."
Showrunner Damon Lindelof dedicated the award to the victims and survivors of the 1921 Tulsa Massacre, an event the show highlighted. Lindelof continued, saying that "history is mystery – it's broken into a million puzzle pieces and many are missing…But we have to name it before we can repair it."
Though it was disappointing to see "Watchmen" miss out on directing, when "This Extraordinary Being" was one of the most stunning episodes of television in recent years.
"Ozark" Falls Short
With eighteen nominations and a lot of buzz surrounding its third season, expectations were high for the Netflix drama. Yet the show only scored one trophy, a win for Julia Garner for Best Support Actress in a Drama. Winning for the second year in a row, it underlines the strength of Garner's performance. Yet with a fourth and final season on the way, there's still time for the Emmys to award the show.
Slightly Less "Marvelous"
With "Schitt's Creek" dominating the comedy categories, this left little for Amazon's "The Marvelous Mrs. Maisel", which didn't win any acting awards for the first time. Even so, it still won four creative arts Emmys, and will likely be a contender next year.
HBO vs Netflix
Netflix may have scored more nominations, but HBO took home the most wins, with 30 wins while Netflix scored 21. Despite its cultural dominance, the streamer still hasn't managed to win the top prizes for either Comedy or Drama. This is strange when you consider even Pop TV and Hulu have managed it. Though even without "Game of Thrones" HBO still managed to dominate this year's television.
See a full list of the winners here. What did you think of the Emmy Award winners? Let us know! Follow Shuffle Online on Twitter, Instagram and Facebook. Love our work? Buy us a coffee on Ko-Fi!
Sarah is a bookseller and English Literature graduate who watches too much tv in her spare time. Her favourite shows include Succession and Crazy Ex-Girlfriend. Sarah is particularly interested in period dramas and women's history.